When air-bags were introduced to cars as a safety mechanism in the 80's, it significantly dropped the serious injury rates, so much so that they eventually became mandatory for all new cars.
For motorcyclists, the risk is part of what makes it so exciting. We're doing something, that potentially could harm us, and while we're calculated about, it's part of the thrill that sets us apart from four-wheel vehicle operators.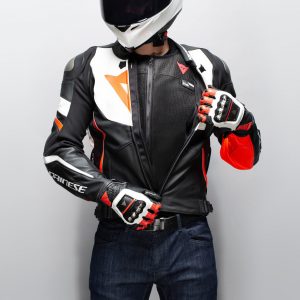 We're exposed, in the wind and free from a surrounding metal shell. It's freakin' great, isn't it? But, as we said, it does come with an increased exposure to risk; so for years motorcycle apparel manufacturers, lead by Italian innovators Dainese, have been looking at ways of keeping us protected, without impairing that freedom-feel we all feed on.
So, what about a wearable air-bag for riders? Say what?! You heard it correctly, a wearable air-bag. The concept was brought to life by Dainese in MotoGP racing some years ago and now, is mandatory for all racers who line-up on the grid.
As with a lot of the high-end racing, that technology has since trickled its way down the production line to the Smart Jacket that you see here. It's a wearable air-bag specifically designed for the road rider. Which means it keeps you protected in the key areas (chest, collarbone and back) in case of a crash or impact from another vehicle.
That second part, the impact from another vehicle, is one of the key standouts for the Dainese Smart Jacket, it's incredibly sophisticated brain unit which is stored in the back of the jacket, processes a whole range of information at 1000 times a second and adapts to the environment you're in. Where other units might need to be tethered to a bike or need to be travelling over a certain speed to be triggered, the Smart Jacket uses it's sensors to detect vibration from the motorcycle and if armed (pre-ride) then it will detect you're "riding" even if not moving and will inflate in the case of a third-party impact to keep you safe. And at a speed that would see it completely inflated by the time you got your handlebars in the case of being hit from behind!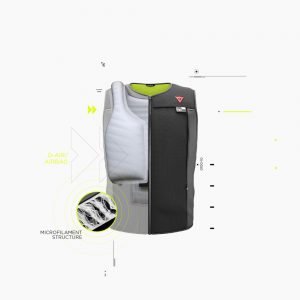 The bag unit itself is made from a patented Microfilament technology which expand when exposed to the compressed Argon Gas once triggered. This means that you get a completely even spread of protection across the entire shield unit, meaning there's no deformation and the air is distributed evenly on impact.
Why would you use this when I can get a hard or soft back protector I hear you ask? Well, in testing by Dainese, the Smart Jacket was found to offer 7 times the level of protection than that of a hard-shell. Plus, it also protects your chest, back and shoulders all in one.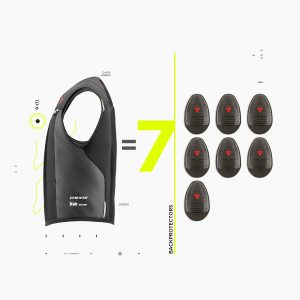 Once it's been deployed, the bag unit does need to be replaced, but that's no biggy and unlike others, can actually be done by the trained staff at your local Dainese stockist. They'll take your bag, log the data stored in it (which helps to better understand the crash and adjust for future uses) check the external structure for any significant damage and if all good, can slip in a new system and you're on your way again.
The Smart Jacket is a versatile item, designed to be worn over or under any jacket, jumper or shirt, provided there's enough room for inflation if wearing under. It's able to be switched on and off for storage and travel and is breathable and suitable for riding in all climates, be that serious twisties or commuting to work.
If you want to know more about the Smart Jacket or any other Dainese's innovative products, head to www.mcleodaccesories.com.au/brands/dainese.