SHOEI's unique and patent-pending Motion Energy Distribution System (M.E.D.S.) technology reduces rotational acceleration energy in the event of an accident, without compromising linear impact protection.
Rotational injury protection is paramount for off-road riders because of the increased possibility of this injury occurring in an accident. A rotational brain injury is the result of a rapid change of the rotational velocity of the head, often caused by a direct hit to the helmet – even an indirect hit to the shoulder – leading to a sharp rotational motion of the head.
SHOEI's VFX-WR utilises their unique M.E.D.S. technology to protect riders at an elite level, combining varying densities of EPS foam for the impact absorbing liner to deliver optimal impact absorption performance.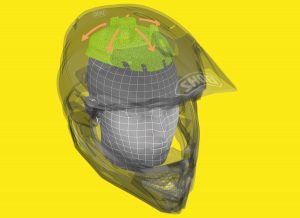 The dual layer/multi-density EPS liner in the VFX-WR is more technically advanced than any existing conventional dual liners. The main layer of EPS liner absorbs impacts from the outside as usual, while the additional centred layer reduces rotational acceleration energy to the head.
SHOEI Brand Manager, Damien Irwin, says M.E.D.S. reduces rotational acceleration energy by 15% in the VFX-WR compared to previous models. "In the event of an accident, the M.E.D.S. insert liner swings, anchored by a centre column during impact, allowing its three perimeter columns to absorb the energy.
"The structure guarantees traditional impact absorption performance in response to linear acceleration and also has the effect of reducing rotational acceleration energy", he said.
Using this unique impact absorbing liner structure makes it possible for SHOEI to achieve superior impact absorption performance and a reduction of rotational acceleration without infringing on important factors such as overall light weight and wearing comfort.
The VFX-WR helmet is available from all leading motorcycle dealers around the country. For more information about M.E.D.S. or the VFX-WR helmet, visit premiumhelmets.com.au.
McLeod Accessories is proud to be the official and exclusive distributor of SHOEI helmets in Australia.