From racing icons FMF and the visionaries at 100% comes FMF Vision; a partnership that brings to life a passion for excellence in dirt bikes and performance racing products.
Since 1973, FMF Racing has focused on designing and manufacturing exhaust systems for dirt bikes and in 2021, expanded their horizons to quality vision products. Meanwhile, 100% – a brand that has roots in motocross since the early 80's – released their very own line of visionary masterpieces over a decade ago that was focused on delivering riders innovative and performance-driven goggles and eye wear to take their riding to the next level and has since become the go-to goggle for riders and racers across the world. It was destined to be a match made in heaven.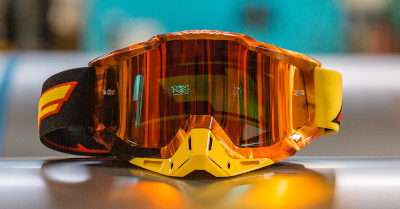 FMF Brand Manager, Stacy Humphries, knows the value and strength of the FMF Vision brand, with the partnership signalling a new direction in the motorcycle goggle market. "FMF Racing and 100% are two of the world's most iconic motocross brands.
"Both brands have a thirst for innovation and serious performance yet understand the wants and needs of riders because they've lived and breathed this for decades. They are fans of the sport just as much as the rest of us and can translate that first-hand experience into design and products that are category leading and what our customers need," she said.
With support from Zach Osborne, Joey Savatgy, Justin Bogle and the Honda Racing Team in Australia, FMF Vision are aligning their winning style and performance with racers of the same creed and continuing to develop the products to keep them at the front of the best championships in the world.
K.I.S.S – No, we're not talking about the band and we don't want a smooch either… Keep It Simple Stupid. Yes, FMF Vision googles are born from innovation and performance, but that doesn't mean they need to be over-complicated or techy for the sake of being techy. There's something to be said for simplicity and refinement that delivers and with two models of goggle and a variety of different lenses to suit every environment, the FMF Vision offerings fill that brief to a tee.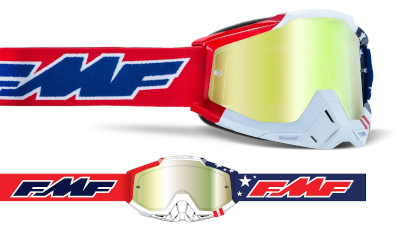 PowerBomb is the cream of the crop, with goggles for standard use, sand, OTG (Over The Glasses), enduro and roll-off film systems. Each PowerBomb goggle features a removable nose guard, anti-fog coated polycarbonate lens, triple layer moisture managing face foam to keep your eyes dry even if you sweat like a sumo wrestler in a sauna and 45mm ultra-wide silicone coated strap for a secure fit on the help and keeps you from getting the dreaded gumby-goggle-gap.
"FMF goggles are made for riders, by riders," said Stacy. "The guys and girls at both brands are some of the most passionate riders you'll come across. They know the fine details like having certain foams for sand goggles that stop the grains coming through into your eyes, they know what it's like to ride with glasses and they know what it's like to be roosted in the face because they do it regularly! Most importantly, they know how bad it sucks when your goggles don't work so they collaborated to create these goggles that not just look cool, but do what you expect of them too".
For the trail guys that enjoy riding in less than favourable conditions, the PowerBomb has an option for an incorporated dual-pane polycarbonate lens to stop your goggles looking like the windscreen of an '80s Corolla on a muggy and rainy day. With tear-offs becoming increasingly exempt from use on public tracks, roll-offs are the go-to for clear vision on the muddy days. They give you a wide-band vision line with the simple pull of cord that means you can keep roosting while your mates are busy wiping muck around their lens with their already muddy thumb. When the sun is shining though or you just want that factory look, then FMF has you covered with a mirrored option for the PowerBomb too.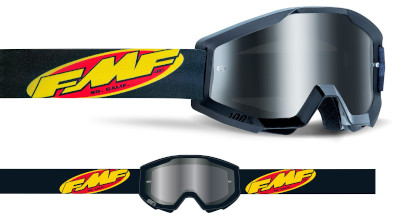 The second range, PowerCore, may be cheaper in price, but is still high in features. They come with an anti-fog coated polycarbonate lens, dual layer face foam instead of triple and 40mm wide silicone coated strap with options for both adults and youth and some killer colours to make you stand out from the rest.
All adult FMF goggles share the same lenses and tear offs (laminated and standard), making sharing lenses and tear-offs easy no matter what frames you have in your gear bag. "We know riders and racers are on the track in varying conditions. It can be dark and overcast in the morning and come out blue sky and sunny in the arvo… or they may even be riding or racing into the night. With that in mind, there are 11 different lenses to choose from, which means you can tune your vision as much as you tune your suspension", said Stacy.
Whilst the PowerBomb and PowerCore range share some colours, their designs are unique to each other, allowing your higher performance goggles to stand out in the crowd.
FMF Vision goggles are available from all leading motorcycle dealers around the country. For more information about the range, visit mcleodaccessories.com.au or contact your local McLeod Accessories sales rep.
McLeod Accessories is proud to be the official and exclusive distributor of FMF products in Australia.