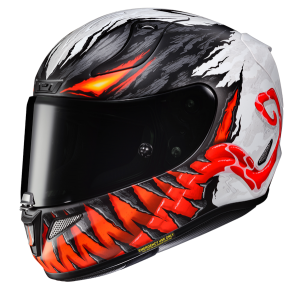 HJC's latest officially licensed Marvel Comics helmet brings to life Spiderman anti-hero, Anti-Venom, in a brilliantly designed lid with RPHA 11 performance.
Following the success of other Marvel and Spiderman universe themed helmets, Anti-Venom is a bold and unique design that commands attention. It's hard not to stare into the vivid orange eyes, be consumed by the red mouth and tongue, and admire the contrasting white and black spider motif on the rear; this helmet captures the essence of Anti-Venom and Marvel Comics' visual style perfectly.
HJC Brand Manager, Stacy Humphries, can't get enough of these vivid designs. "HJC have been able to take interesting and beloved characters from movies and comics to create something unique for a motorcyclists. We've seen this in the past with the Avengers and Star Wars, as well as their current licenced range.
"What's more impressive is that they've incorporated the designs onto class leading helmet ranges to ensure the brilliant design has safety features to match", she said.
The HJC Anti-Venom helmet is a part of the RPHA 11 family, originally built for the racetrack and HJC's premium sport helmet. The RPHA 11 series is designed with speed and performance in mind, with an aerodynamic shell structure for extreme performance at maximum speeds.
The Premium Integrated Matrix (P.I.M Plus) shell composition provides enhanced shock-resistant performance and a more comfortable and lightweight helmet using reinforcement materials that include carbon and carbon-glass hybrid fabric.
The RPHA 11 features cater to sport riders with an enlarged eye port for an increased view in a tucked position and an outstanding airflow ventilation system. Additional safety features include reflective patches on the rear neck area and an emergency release cheek pad system for safe and quick helmet removal in an emergency situation.
The helmet comes standard with a clear visor, however in the box you'll also find an additional dark smoke visor and Pinlock 120 anti-fog lens. There are also two additional anti-fog tear off pin-prepared visors available separately, one clear, the other mirrored.
HJC have licenced a number of favourite characters for RPHA 11 helmets over the years, with the current range including Marvel's Venom, Carnage and Punisher, DC Comics Joker and Universal Studios Minions. For more information about the HJC RPHA 11 Anti-Venom helmet or more of the HJC range, contact your local McLeod rep or your local motorcycle accessories dealer.