BRIDGESTONE PARTNER WITH THE EMPIRE KAWASAKI TEAM IN 2023.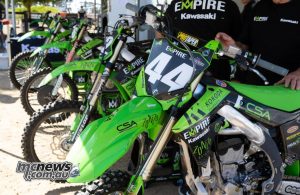 Bridgestone Japan and McLeod Accessories are excited to announce their official Bridgestone tyre partnership with Empire Kawasaki for duration of the 2023 racing season and beyond.
Empire Motorsports was established in late 2017 and debuted in the 2018 MX / SX championship season as a privateer Kawasaki team. Their success quickly caught the attention of Kawasaki's Motor Australia, and they took on Factory status for 2019 racing season.
Empire Kawasaki is now one of the leading Australian Motocross / Supercross teams. Armed with the Bridgestone Battlecross range, Empire Kawasaki will continue to take the fight to their competitors in the endless pursuit of championships.
Empire Kawasaki will field a six-rider line-up across four disciplines in 2023.
MX2
Haruki Yokoyama
Cody Cooper
MX3
MXW
Off Road
450 – Matt Ryan
250 – Will Price
Empire Kawasaki aims to build a strong following for their chosen partners and continue to develop their riders and racing programmes.
From Empire Kawasaki – Partnering with Bridgestone for the 2023 season couldn't have come a better time. Both our MX2 star's Haruki Yokoyama and Cody Cooper are very familiar with Bridgestone's Battlecross range and are beyond happy to be using Bridgestone this season. We see nothing but good things with Bridgestone; their Battlecross range is extensive with a tyre for every discipline/condition.
From McLeod Accessories – We are ecstatic to be supplying the world-class Bridgestone Battlecross range to Empire Kawasaki. From their athletes to the team on the ground and behind the scenes, they're dedicated to driving home a win every time they hit the track. We look forward to seeing them continue their rise through the ranks on the world's most capable MX tyres.
Image courtesy of MC News.